Week of June 14, 2018
In this Edition:
West Shore United Girls' Rugby Club Visits Capitol
Senate Approves Sweeping Reforms to Redistricting Process
Telemedicine Legislation Garners Senate Support
Senate Passes Bill to Expedite Adoption Process
Other Bills Approved by the Senate and Sent to the House
Five Bills Sent to Governor
Committee Roundup
Other Committee Action
Up Next
---
West Shore United Girls' Rugby Club Visits Capitol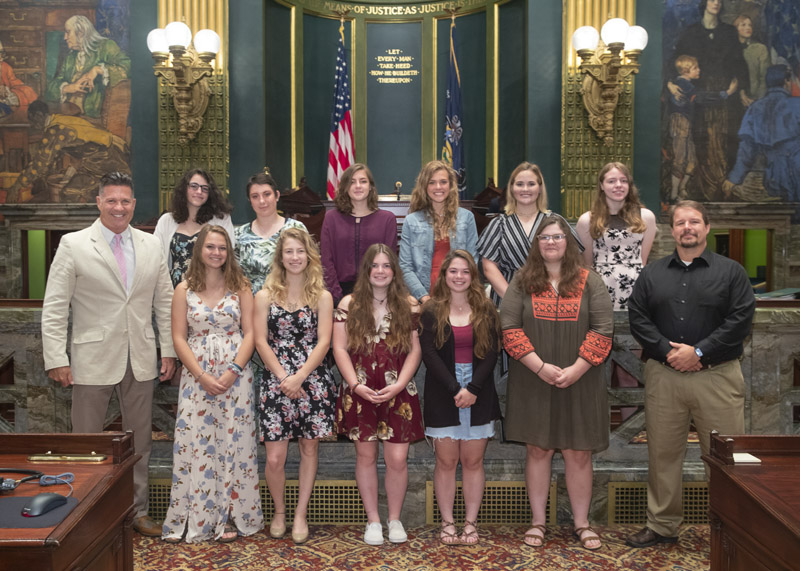 During Senate session on Wednesday, I had the pleasure of recognizing members and coaches of the West Shore United Girls' Rugby Club, which brought home the 2018 Pennsylvania State Division 2 High School Club Girls' Rugby Championship.
Senate Approves Sweeping Reforms to Redistricting Process
The Senate approved an historic bill on Wednesday that would amend the Pennsylvania Constitution to change the way that Pennsylvania's legislative and Congressional districts are established.
Senate Bill 22 calls for the creation of an independent redistricting commission made up of 11 Pennsylvania citizens who would be responsible for drawing the boundaries of legislative and Congressional districts. Elected officials, candidates for public office, lobbyists, and legislative staff would be prohibited from serving on the commission.
The makeup of the commission will be required to represent the geographic, gender and racial diversity of the state. The maps would be required to be created without the use of partisan data, prior election results or the addresses of specific individuals to prevent any undue political influence in the process.
Similarly, the legislation also changes the way that appellate court judges are elected. In current practice, members of the state Supreme Court, Superior Court, and Commonwealth Court are elected via a statewide vote. Senate Bill 22 would divide the state into judicial districts to ensure a broader range of regional interests are represented on Pennsylvania's highest courts.
Because the legislation would amend the Pennsylvania Constitution, it must be approved in two consecutive legislative sessions and be approved by voters in a statewide referendum.
Senate Bill 22 now goes to the House of Representatives for consideration.
Telemedicine Legislation Garners Senate Support
The Senate approved legislation on Wednesday aimed at promoting telemedicine in Pennsylvania as a way to overcome barriers to quality patient care created by distance and reducing the costs of those services.
Senate Bill 780 specifically defines telemedicine as "the delivery of health care services provided through telecommunications technology to a patient by a healthcare practitioner who is at a different location." It also establishes guidelines regarding who can provide telemedicine services and provides clarity regarding insurance company reimbursement for those services.
Physicians and other health practitioners delivering telemedicine services would still be required to follow standard state licensure and medical practice laws and requirements in Pennsylvania.
The bill now goes to the House of Representatives for consideration.
Senate Passes Bill to Expedite Adoption Process
The Senate unanimously approved legislation on Monday that would expedite the voluntary termination of parental rights to speed up the legal adoption process.
Senate Bill 1129 would require courts to set a hearing date no more than 30 days after birth parents file a petition for relinquishment of their parental rights to an adoption agency or an adult wishing to adopt the child. Current law requires the court to set a hearing date no less than 10 days after a relinquishment petition is filed but does not set a deadline for holding the hearing.
The legislation also provides procedures for a diligent search for birth fathers and for the notice of a scheduled adoption hearing. Failure to appear at the hearing or file a written objection would result in termination of the birth father's parental rights.
The bill now goes to the House of Representatives for consideration.
Other Bills Approved by the Senate and Sent to the House
House Bill 152, which requires the Insurance Department to administer and maintain a database of life insurance policies to search for potential beneficiaries. The bill returns to the House for concurrence on Senate amendments.
Senate Bill 299, which changes the way that an incumbent magisterial district judge gets on the ballot for re-election.
Senate Bill 655, which requires mandatory implementation of opioid prescribing guidelines developed by the Safe and Effective Prescribing Practices Task Force.
Senate Bill 934, which expands the authority of the Elevator Advisory Board, a subcommittee of the Industrial Board under the Pennsylvania Department of Labor & Industry.
Senate Bill 1087, which establishes a joint commission on the child welfare system.
Senate Bill 1156, which renames roads and bridges.
Five Bills Sent to Governor
Five bills received final legislative approval this week and were sent to the Governor's desk for enactment into law.
House Bill 653 provides for an accelerated foreclosure process for vacant and abandoned property.
Senate Bill 667 gives redevelopment authorities the same powers currently allotted to land banks through the Pennsylvania Land Bank Act.
Senate Bill 776 extends the Dyslexia and Early Literacy Intervention Pilot Program.
Senate Bill 851 amends the Real Estate Tax Sale Law to clarify ownership of properties that are in the delinquent tax sale process.
House Bill 1641 creates the Employment First Act.
Committee Roundup
A recap of activity by the Senate committees I serve on.
Agriculture & Rural Affairs
The Senate Agriculture & Rural Affairs Committee approved two nominees to the Milk Marketing Board, as well as two resolutions on Wednesday.<st
Senate Resolution 382 urges the federal Food & Drug Administration to enforce existing regulations that establish clear standards for milk labeling.
Senate Resolution 384 directs the Legislative Budget and Finance Committee to identify and examine the statutes, best practices, and proposed measures of other states to provide assistance to dairy producers.
Consumer Protection & Professional Licensure
The Senate Consumer Protection & Professional Licensure Committee approved five bills on Tuesday.
Senate Bill 689 provides for the appointment of two Certified Pennsylvania Evaluators to the State Board of Certified Real Estate Appraisers.
Senate Bill 832 clarifies that revaluation company personnel who are directly responsible for the valuation of real property must be certified as Certified Pennsylvania Evaluators.
Senate Bill 1074 addresses state law regarding genetic counselors.
Senate Bill 1169 amends the Medical Practice Act providing for genetic counselors.
House Bill 1898 requires dealer disclosure of vehicles with uncorrected recalls at time of sale.
State Government
The Senate State Government Committee approved two bills on Wednesday.
House Bill 110 is a constitutional amendment providing for state government spending limitations.
House Bill 153 is a constitutional amendment reducing the size of the General Assembly.
Veterans Affairs & Emergency Preparedness
The Senate Veterans Affairs & Emergency Preparedness Committee approved two bills on Wednesday.
House Bill 247 allows monuments and memorials to be eligible expenses under the Veterans Trust Fund.
Senate Bill 1019 updates the Emergency Management Sections of Title 35 (Health & Safety) and enhances Pennsylvania's ability to prevent, prepare for, respond to, and recover from natural and manmade disasters.
Other Committee Action
Banking & Insurance
The Senate Banking & Insurance Committee approved three bills on Wednesday.
Senate Bill 190 allows self-storage proprietors to sell content insurance.
Senate Bill 1205 provides for insurer corporate governance disclosure.
House Bill 1800 codifies a process for medication synchronization.
Education
The Senate Education Committee approved three bills on Tuesday.
Senate Bill 1181 requires depression screenings for students.
Senate Bill 1198 establishes in statute the Student Performance profiles webpage as a single location to access all accountability measures.
House Bill 2124 requires institutions of higher education to send annual letters to students with information on their student loan debt, including estimates of their total debt at graduation and estimated monthly payments.
The Education Committee approved two measures on Wednesday.
Senate Resolution 293 directs the Joint State Government Commission to conduct a comprehensive review of school safety.
Senate Bill 1095 addresses graduation requirements.
Environmental Resources & Energy
The Senate Environmental Resources & Energy Committee approved six measures on Tuesday.
Senate Resolution 326 encourages Congress to accept the conclusions of the National Park Service in recognizing the Eastern Legacy of the Lewis and Clark National Trail for its historic national significance.
Senate Resolution 373 establishes a special bipartisan legislative commission to recommend safety, oversight and interagency coordination improvements for the transport of oil, natural gas and other hazardous liquids through pipelines in Pennsylvania.
Senate Resolution 375 urges Congress to support the development of an Appalachian ethane storage hub.
Senate Bill 917 expands the definition of "compost materials" in state law to include spent mushroom substrate.
House Bill 927 provides for a municipal exemption from leaf waste collection requirements.
Senate Bill 1189 provides for economic compensation for property owners impacted by Delaware River Basin Commission actions.
Finance
The Senate Finance Committee approved House Bill 939 on Wednesday.
The bill provides for the forfeiture of a public pension when a public employee is found guilty of, or pleads guilty or no contest to, an offense classified as a felony or punishable by a term of imprisonment exceeding five years.
Health & Human Services
The Senate Health & Human Services Committee approved three bills on Tuesday.
House Bill 1659 amends the Human Services Code regarding work requirement waivers in the Supplemental Nutrition Assistance Program.
House Bill 1677 updates references in the Human Services Code from "child day care" or "day care" to "child care."
House Bill 2138 adds work requirements for eligible enrollees in Medical Assistance.
Judiciary
The Senate Judiciary Committee approved seven bills on Tuesday.
House Bill 44 amends the Protection from Abuse Act to provide courts with information regarding whether the defendant has been involved with a child abuse investigation.
House Bill 128 increases the penalty for human trafficking in infant children.
House Bill 594 prohibits Accelerated Rehabilitation Disposition for certain offenses against children.
Senate Bill 820 provides some protection from civil liability for owners and operators of agritourism activities.
House Bill 1539 allows a grandparent or other specific relatives of a minor child to petition for temporary guardianship when a parent has entered a rehabilitation facility for treatment of a drug or alcohol addiction or has been subject to emergency medical intervention due to abuse of drugs or alcohol.
House Bill 1885 allows a Register of Wills to determine and direct the personal representative of an estate to post additional security after examining the inventory or inheritance tax return of an estate.
House Bill 1886 updates Orphans' Court report procedures.
The Judiciary Committee approved House Bill 2050 on Wednesday. The bill prohibits an abortion solely on the basis of a prenatal diagnosis, or belief, that the unborn child has Down syndrome.
Local Government
The Senate Local Government Committee approved two bills on Tuesday.
Senate Bill 1168 amends the process by which a borough with a population of 3,000 residents or less can reduce the size of its borough council.
Senate Bill 1176 amends the Home Rule Law.
Majority Policy
The Senate Majority Policy Committee held the second of two briefings on welfare reform efforts on Tuesday.
Tuesday's briefing featured Ron Haskins a Senior Fellow and Cabot Family Chair in Economic Studies at the Brookings Institution. Haskins served in various roles in the federal government including 14 years with the U.S. House Ways and Means Committee, as a senior advisor to President George W. Bush for welfare policy, and was appointed by Speaker Paul Ryan to co-chair the Evidence-Based Policymaking Commission. He also co-authored "Work over Welfare: The Inside Story of the 1996 Welfare Reform Law." Video
Last week the Committee heard from Sam Adolphsen, a Senior Fellow at the Foundation for Government Accountability and Vice President of Rockwood Solutions. He served as Chief Operating Officer at the Maine Department of Health and Human Services. In Maine, Adolphsen was responsible for welfare eligibility and fraud detection programs as well as oversight over the state's Medicaid budget. Video
The briefings were designed to bring in national experts on the topic to provide guidance and feedback on best practices in other states and how Pennsylvania can strengthen its existing safety net while providing individuals with the best opportunity to climb out of poverty.
Urban Affairs & Housing
The Senate Urban Affairs & Housing Committee approved two bills on Wednesday.
House Bill 1499 amends Title 68 (Real and Personal Property) to clarify and update provisions relating to planned communities, condominiums and cooperatives.
House Bill 2049 creates the Assistance and Service Animal Integrity Act to address documentation requirements for service animals in housing, and to establish penalties for misrepresentation.
Up Next
The Senate returns to voting session on Monday, June 18th at 1 p.m. You can watch session live at senatormikereganpa.com.
On Tuesday, June 19th the Senate Agriculture and Rural Affairs Committee will hold a hearing to discuss the state of the Pennsylvania dairy industry.